INVITATION TO CHILDREN'S SEASON 2018(Day 1)
Dear Members and Friends
INVITATION TO CHILDREN'S SEASON 2018
Gan Heritage Centre officially joined the National Museum of Cultural Heritage Museum round table members and will participate in the third year of the activities jointly organized by National Heritage Board and the Museum Roundtable - Children's Season 2018.
In conjunction with Children's Season Singapore, Gan Heritage Centre is bringing you a 2-Saturday Activities.
You are cordially invited to the Gan Heritage Centre Open House on Saturday, 26 May 2018 and join in an educational event! This first activity under the theme of "Learning Confucius Values" includes bilingual guided tour of the exhibition area and shadow puppet making workshop brought by the Paper Monkey Theatre. The children could learn the process of shadow puppets production. Characters will be based on travelling experiences of Confucius and his disciples which will be used in the mini-drama presentation. As for calligraphy workshop, in addition to letting children learn how to use the brush to write the basic brushstrokes; through simple games to enable children to better understand the meaning of the values gathered from the travelling experiences of Confucius and his disciples around the country. The instructor will teach children to write Chinese characters of the related values in Yan Style so that children could fully exert their potentials.
Please mark your calendar and join us on
Date : 26 May 2018 (Saturday)
Time : 12pm to 4pm
Venue : Gan Clan Singapore @ Gan Heritage Centre

Admission is free but registration required. Please register via email to secretariat@ganclan.sg.
For further clarification, please contact our secretariat at 6223 0739 or email to secretariat@ganclan.sg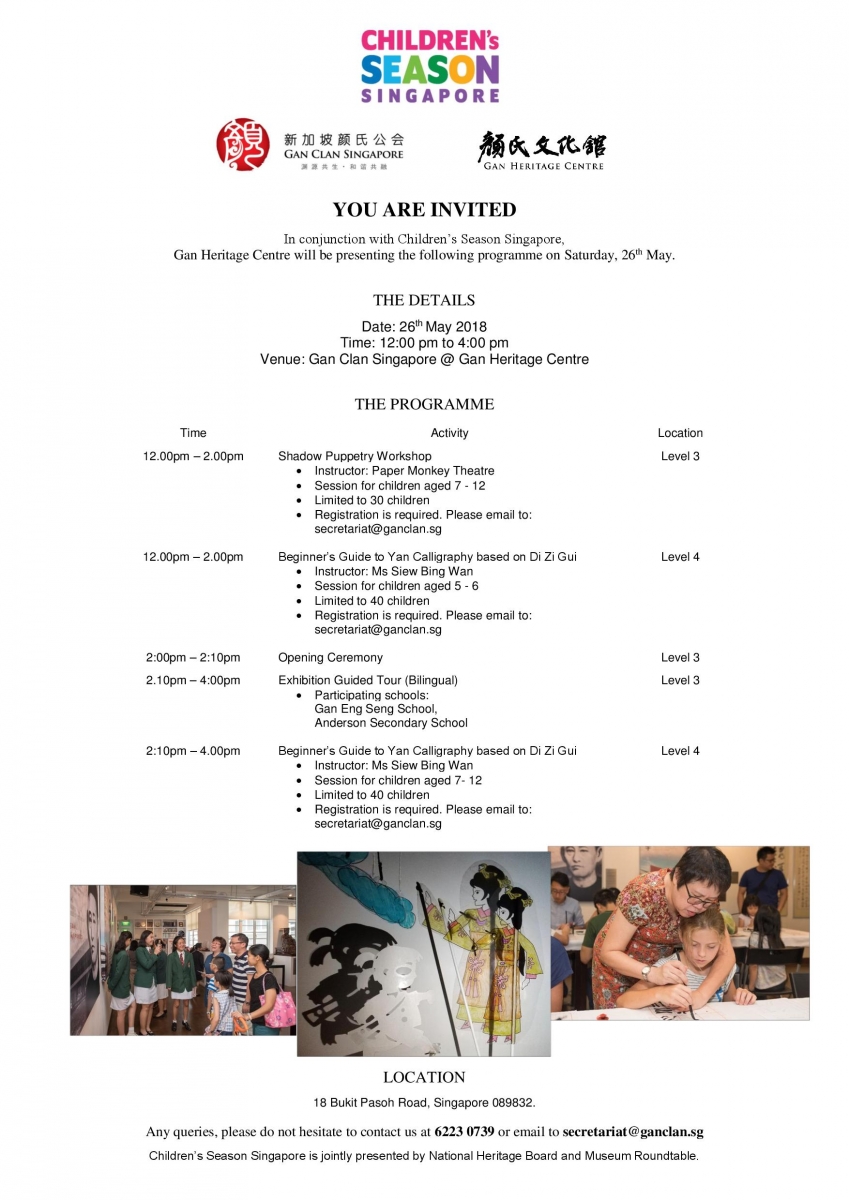 Yours Sincerely,
Gan Ee Bee
Vice Honorary Secretary, Gan Clan Singapore
Chairman, Heritage Centre Management Committee
Centre Director, Gan Heritage Centre
Children's Season Singapore is jointly organized by
National Heritage Board and Museum Roundtable.
Activities details
Event date:
26/5/2018(Sat)
Event time:
12pm-4pm
Venue:
Gan Clan Singapore @ Gan Heritage Centre
18 Bukit Pasoh Road #03-01
Singapore 089832
Pricing:
Free admission. Registration is required.